You might be interested in renovating your basement because you want to make it more usable than it was before. Whether you would like to add a game room, a wine cellar, or a bar to your basement, a newly renovated basement can provide you with plenty of space. It is possible to have a large amount of space in a newly renovated basement for many of your needs.
In order to succeed in such a project, you should first understand that basement renovations can be extremely difficult. Here are some things to take into consideration before deciding to embark on a basement renovation project.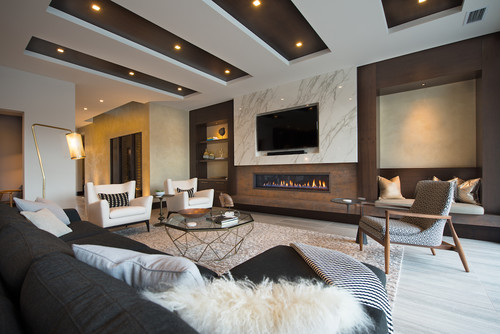 1. Add Inviting Elements
The basement is a difficult place to draw people, especially when the basement does not receive much natural light, but it can be great if you can make the most of the dimness and coziness. Adding elements of atmosphere, such as fireplaces and large flat-screen televisions, works very well to make your basement feel like a home.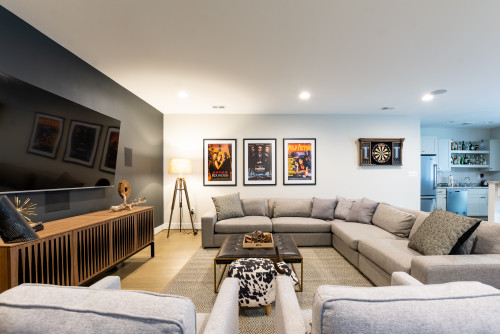 2. Dig The Basement Deeper
Adding extra height to your basement is an expensive undertaking when you have to dig out your basement to get a higher ceiling. You will have to change the structural design of your house to achieve this goal. If your basement is large, you might need to spend $50,000 to $90,000 digging it out and underpinning it. But you will receive an entire floor as a result. It is worth the investment to many people.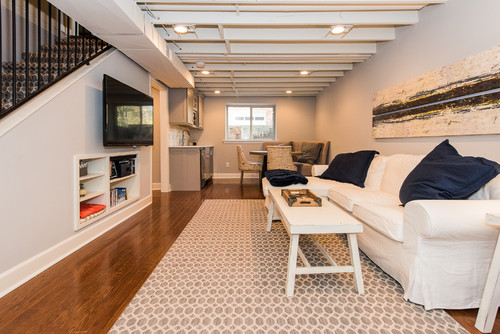 3. Paint Your Ceiling Joists
If digging out your basement is not within your budget, and you would like to give the illusion of higher ceilings, then you might choose to leave the joists exposed and paint them instead of drywalling. You can place track lights between the joists to provide the light you need.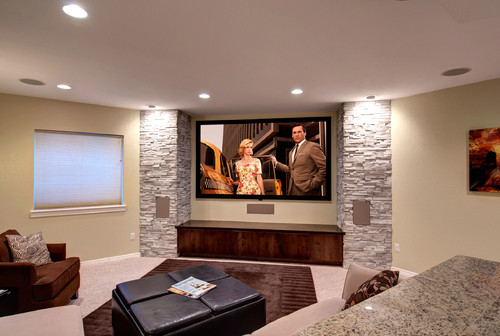 4. Consider Pot Lights
It is sometimes difficult to provide uniform lighting to a basement due to such a low ceiling height, which is why pot lights (aka recessed downlights) can be an excellent option in order to provide uniform lighting while at the same time not lowering the sight line.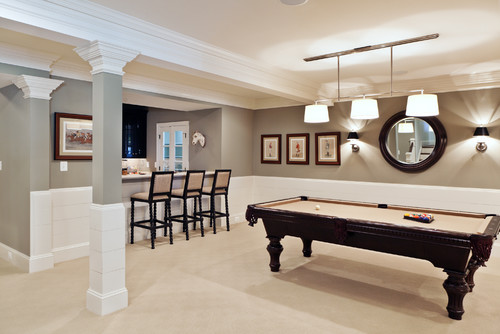 5. Get Your Ducts In Order
As well, one of the things that can be tricky to hide in a basement is the ducts. Therefore, when planning the design of your basement, make sure you plan to incorporate ducts into the interior architecture, whether that be working them into the millwork or incorporating them into a cool lighting niche.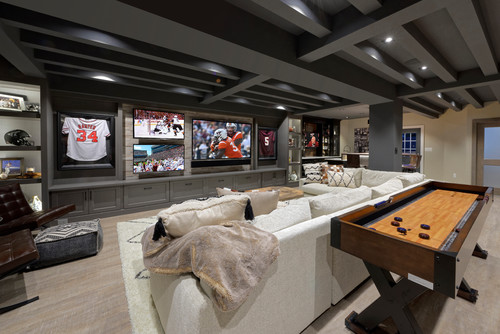 6. Hide the Electrical Panel and Other Services
There are many features that are likely to be in your basement, such as your electrical panel, hot water heater, and furnace. It is sometimes difficult to combine all of these items into one soundproof, properly ventilated utility room, which is the ideal location for these items. In case you are not able to conceal your electrical panel, make sure that you come up with creative ways to conceal it, whether you use millwork, behind artwork, or behind a bookcase.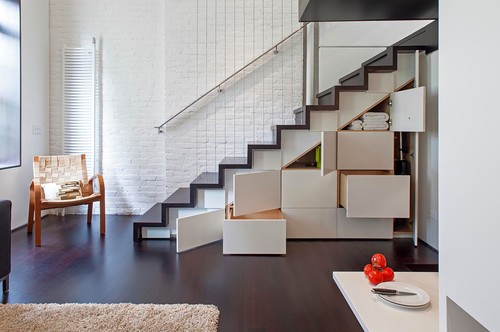 7. Plan Your Storage Space
It is common for most people to hide their belongings in their basement. If you are the type of person who hides their stuff in the basement, plan ahead and ensure that there is ample storage in the basement so that things don't take over and render the area unusable. Provide space for both smaller and larger storage units.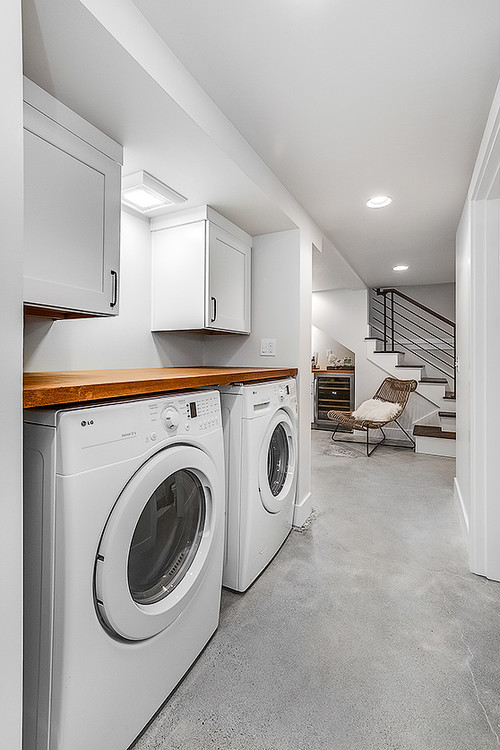 8. Invest in Waterproofing
The investment in waterproofing should not only ensure that your basement stays dry, but also provides a healthy environment for you and your family. Basements are prone to dampness so ensure that you check yours thoroughly for any signs of moisture before you begin any renovations.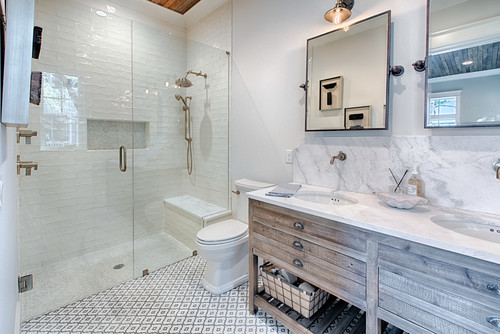 9. Add a Bathroom
You should think about placing a bathroom in your basement if you are planning on using it on a regular basis. Many people neglect to include this in their renovation budget, however, having a beautiful bathroom on the same level of the basement can make a big difference in comfort and convenience.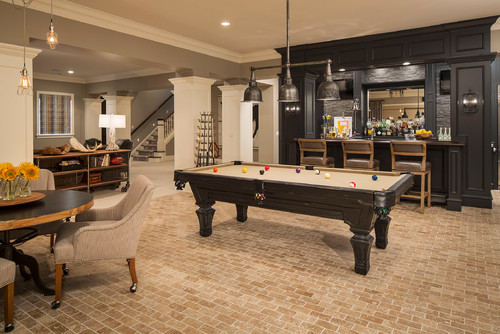 10. Build a Game Room
A basement is often used for recreation, with pool tables and ping pong tables being commonplace. However, when you are designing your basement, keep in mind that your layout may be affected by columns, so be sure to plan accordingly, as well as take into account the amount of circulation space you will need around each game table.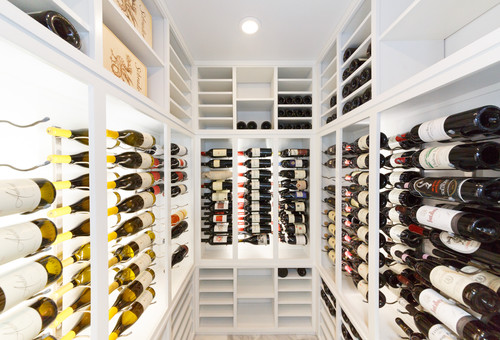 11. Consider a Wine Cellar
Another wonderful addition to a basement is a wine cellar, which stands out as a place that adds interest to the basement, while also maintaining an ideal temperature to accommodate the storage of your wine.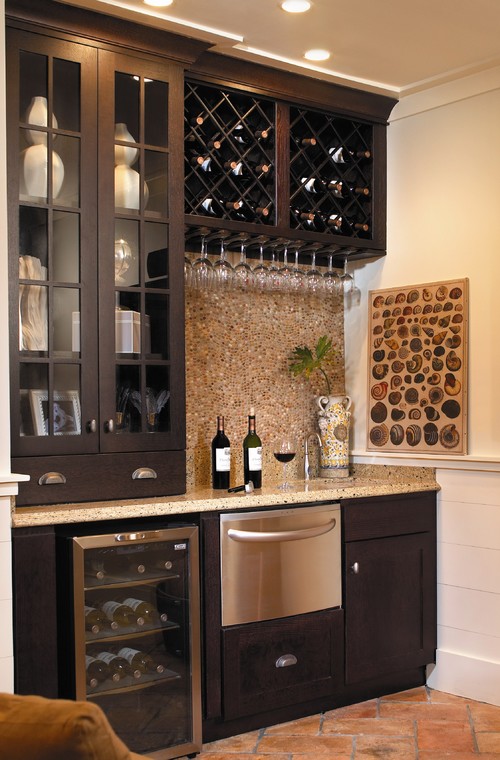 12. Plan a Kitchenette
It is important to plan ahead for your basement space so that it can ensure that your children are occupied for hours on end. Plan a kitchenette where you can accommodate several hungry teenagers at the same time and ensure that the bar counter is large enough for them.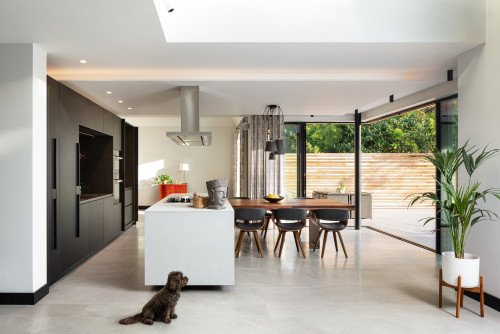 13. Consider a Walk-out
A walk-out basement is a great way to provide natural light to your basement and allow it to feel like it's not a basement at all. A full-sized window and sliding door will increase natural light to the space and allow it to be used just like the rest of your living space.
Considering a basement renovation? Get in touch with our team today for a free consultation: www.squareoneconstruction.ca/contact