There is so much variety in bathrooms these days, you could say that anything goes. However, there are some common design principles that will make it successful no matter what the size or style of the bathroom is.
When it comes to building a beautiful bathroom, no matter its size or style, it is important to follow the following design principles: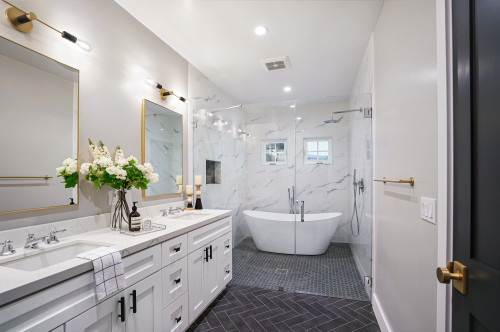 1. Don't Squeeze In Too Many Pieces
Consider what really needs to be in your bathroom, and what you could do without. Most bathrooms are designed to fit into the smallest space possible, and yet people still want to include a tub, a separate shower, twin sinks, and a toilet in there.
The choice of separate tub and shower should only be made if the bathroom is spacious enough, otherwise, it should be combined. Ensure that there is enough room in the bathroom for you to stand up, dry off, and turn around easily before you choose a separate tub and shower.
In order to have a bathroom that is serene and relaxing, it is essential to have a bathroom that has a minimum of fixtures. Otherwise, the bathroom could feel cramped and unwelcoming.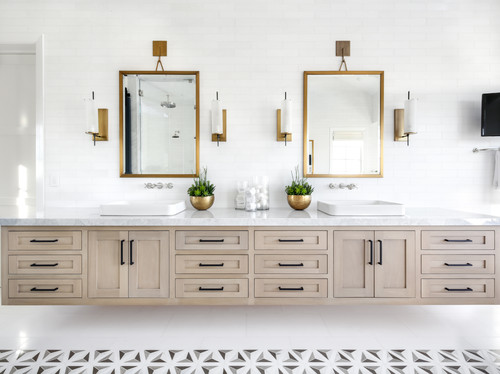 2. Include Plenty of Storage
If you have too many toiletries laying around your bathroom, no matter how aesthetically pleasing they are, they can undo all the efforts you've put into creating a calm and beautiful place. Instead of fighting against the inevitable, embrace it and prepare yourself for the inevitable by installing great bathroom storage.
The key to designing a good storage area is to take into account what you need to keep and then think about how you will arrange it. Some things will be better stored in a drawer, some in a mirrored cabinet, and some others will be better stored in a cabinet under the sink. Consider how your storage solution will fit into the layout of the room as a whole.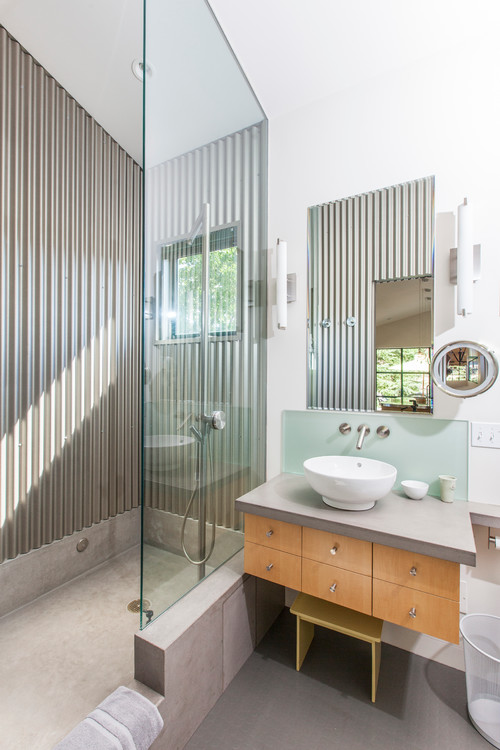 3. Think About the Details
When bathrooms aren't designed carefully, even the most expensive fixtures can end up looking disjointed, and lack cohesion.
For instance, imagine a glass shower screen that is too close to the side of a vanity. It might look fine from one angle, but will dirt get between the glass and vanity?
Having tile that ends at a mid-way point on an interior wall, for example, will result in a horizontal ridge on the tile surface that will collect dust over time. The best way to solve this problem is to tile the entire wall or apply a layer of plasterboard over it in order to prevent this from occurring.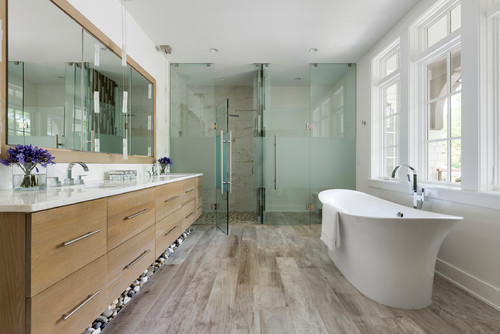 4. Make Sure It's Functional
The most important task when designing a bathroom is to ensure it works. This means that it should feel natural to use and be easy to clean, and all the essentials must be accessible, functional, and well-lit. Whatever design you opt for, you should never allow style to dominate the functionality of the space.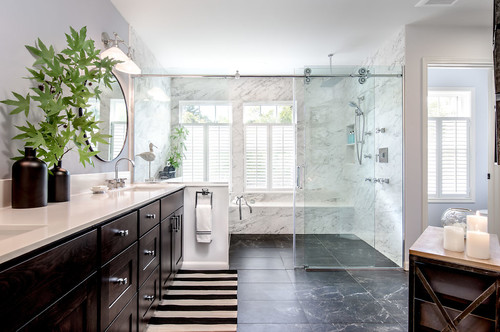 5. Play Up Planes
If you look at your bathroom from a horizontal and vertical perspective, you'll see that it is made up of a series of planes: the floor planes, the wall planes, tiles, the glass (such as shelves or shower screens), and the plumbing itself. If you want the sense of tranquility and organization that rectangular planes offer, then use them to your best advantage. Using rectangular planes helps to create this feeling.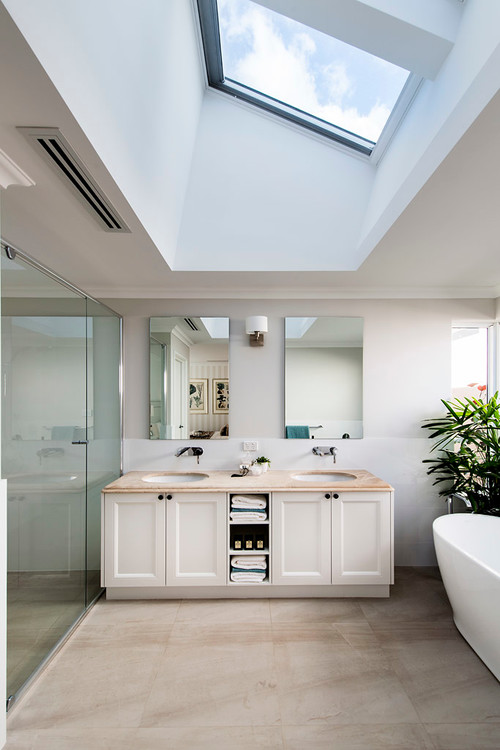 6. Let In Natural Light
It is often the case that the bathrooms get the space left over after bedrooms have taken over the best spots and windows, but we must spare a thought for those relaxing and contemplative moments spent in our bathrooms.
Skylights are a great way to brighten up a room while saving walls for fixtures and furnishings. They can be especially effective in small bathrooms because they magnify space. Since light comes the most intensely from above, skylights are often the best way to flood a room with light while saving the walls for fixtures and furniture.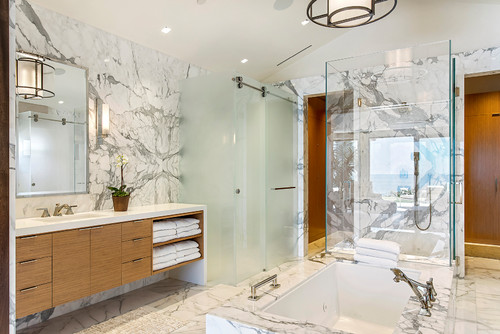 7. Add Layers of Artificial Light
It is important to make sure that artificial lighting is also considered when planning your bathroom. As we mentioned earlier, many bathrooms do not have natural light, so it is imperative that artificial lighting be considered as well. We all use bathrooms after dark, therefore, artificial lighting should also be taken into consideration.
Whenever you are designing a room, it is important to use both task lighting and ambient lighting. This is a great example of how diffused light can be strategically used at face height to provide adequate illumination where you need it the most. As well as being practical, it creates a soft glow that is accentuated by a hidden light source flowing from beneath the mirror.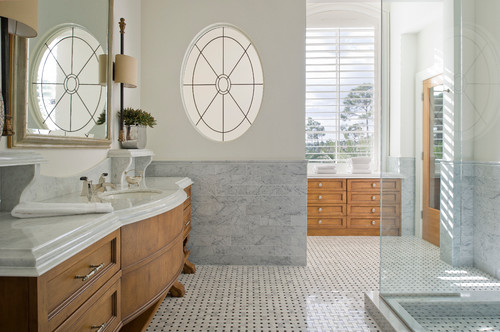 8. Provide a Focal Point
Traditionally bathrooms tend to be white as it is easy to blend into the space. At the same time, if you want to make your bathroom more exciting, you have to create a focal point. This balance can be difficult to achieve – for every boring bathroom, there's another so jazzed up that it makes you feel overwhelmed.
If you want to give the room a fun twist without going overboard, then a great way to do that is choose a feature that fits the room's scale, for example a mirror that stands out, decorative tiles, or a feature colour that stands out.