These optional upgrades can add value and function to your home if you are able to afford them.
In the case of a new build with optional builders' upgrades, it can be very easy to go way over budget because there are so many choices available. Many of those tempting upgrades, however, may also be very expensive. You should determine what you can afford and what you cannot afford first.
Generally, if your builder provides you with a designer, that person can take you through the process of designing your home and determining the costs associated with your choices for your choices, all based on your specifications. You may, however, try to navigate the process on your own, but you may become overwhelmed with making decisions.
Here are some upgrades you may want to add to your wish list. Investing in these improvements will make your home more enjoyable for years to come.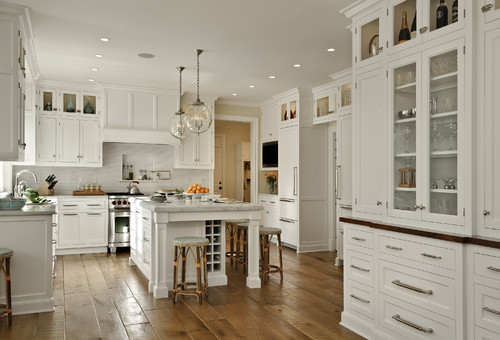 When building or renovating a home, it is often a good idea to put your money where it counts – namely the kitchen and bathroom. Upgrading these areas of a home will provide you with more functionality as well as resale value, and many of the suggestions in this article are for improving those areas.
1. Extra-height kitchen cabinets.
You may have an upper-cabinet height of 30 inches, but if you can increase it to 36 inches or 42 inches, that would be worth the upgrade. We're all looking for more kitchen space, and sometimes it's best to look up. It will provide an additional shelf of storage, and the closer you can get to the ceiling, the better, both for aesthetics and storage. (Short cabinets can look stumpy.)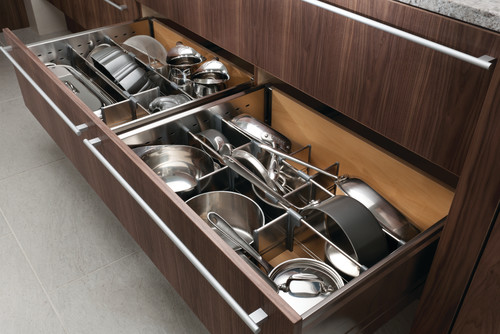 2. Pots and pans drawers.
There are several different types of drawers, but pots and pan drawers are deeper than standard drawers and they are ideal for storing — you guessed it — pots and pans. Additionally, they can be used to store smaller appliances such as toasters, blenders, coffee grinders, and more. You can get these drawers for an affordable price, and you'll be glad for them when you get them. They allow you to keep your kitchen counters clear and still have easy access to important kitchen items.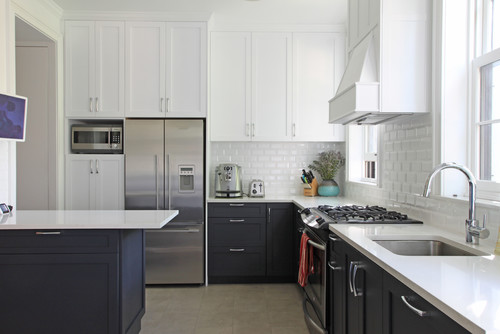 3. Deep over-fridge cabinet.
Standard upper cabinets are 12 inches deep, and your builder's standard cabinet for over the fridge may also be that depth. If you are able to upgrade to a deeper, 24-inch cabinet, it's absolutely worth it. A deeper cabinet makes the fridge look more built-in, particularly if the fridge is counter-depth. It also gives you a deeper space for storage, avoiding the exposed, good-for-nothing area on the top of the fridge. Choosing this option will likely require a gable, or a fridge panel, adjacent to the refrigerator, as seen here. The whole look makes for an attractive finishing touch for your new kitchen.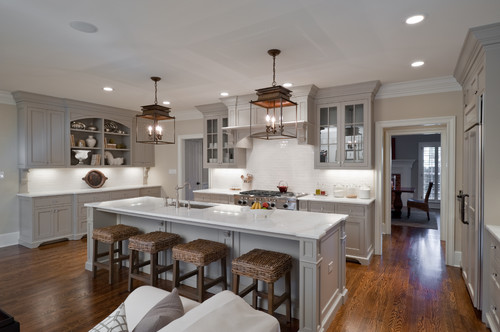 4. Custom-painted cabinets.
There may be an option, depending on the cabinet manufacturer or supplier your builder uses, for your cabinets to be sprayed in the customized colour (or colours) of your choice. This is a wonderful upgrade that will save you some time and money later on, but also give your house a personal touch.
Additionally, if you choose to add more cabinetry or trim to your kitchen later, you will be able to make anything that you add seamlessly fit into the existing kitchen if you match the paint, especially if you have leftover paint or can get more paint using the paint code if you have leftover paint.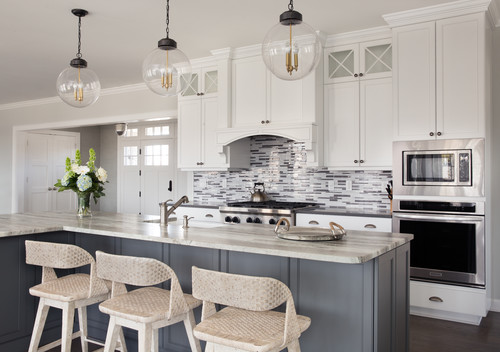 5. High cabinets.
As far as kitchen upgrades go, there doesn't seem to be an end to them, but extra cabinetry is always a top priority for any homeowner. You can add high cabinetry as part of your builder's service if seamless, matching cabinets is the look that you are looking for – which is ideal for storing pantry items – to ensure that the finish and quality are the same.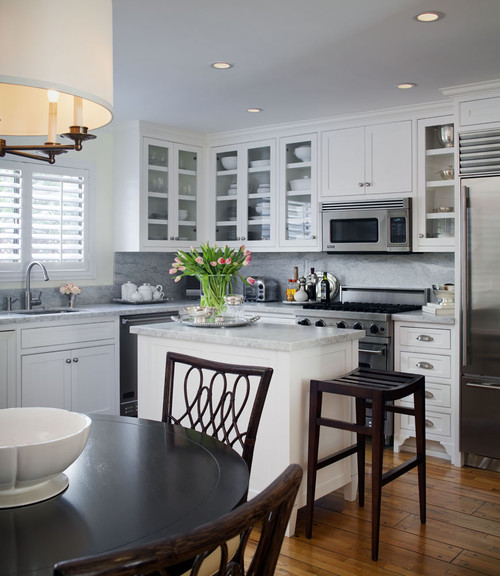 6. Designated microwave spot.
If you are planning on renovating your kitchen or designing a new one, you should consider the placement of your microwave as a priority when selecting a space. After all, you do not want to waste valuable countertop space on the microwave. The most popular place to place the microwave is over the range, using a unit that comes with a fan built in.
It is, however, possible to move it beside the stove area, as shown in this photo. By doing so, you will be able to use any range fan you wish, and statement range fans are a stylish focal point in any kitchen. Additionally, there are several places that are built into the base cabinets, which are equipped with pots and pans drawers.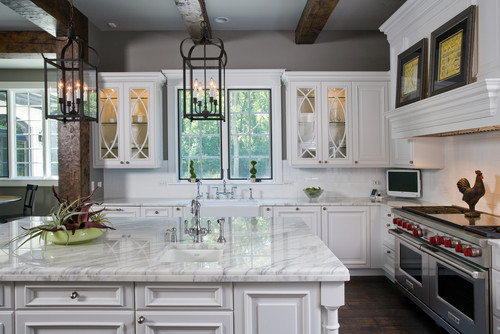 7. Glass cabinet inserts.
Kitchen cabinets with glass fronts are usually an upgrade. If you want glass cabinetry for display items, contact your builder's cabinet supplier now. If you want unusual kitchen cabinet pieces, such as cabinets and doors, you may not be able to order them after the fact. Therefore, if you want anything special in the kitchen, make sure you order it now so your cabinets are in the same finish.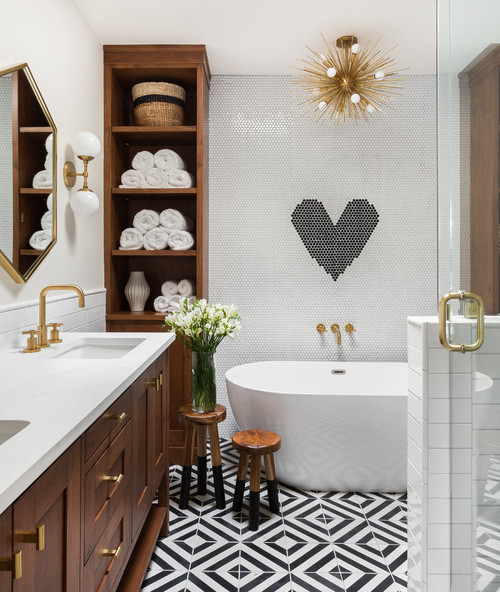 8. Upgraded tile.
There are some builders who offer a wide selection of standard tile options, and when you find them, you're fortunate. There are also upgrades available that are reasonably priced. If you're interested in changing out your tile later on, that can be a hassle, so it might be worth it to you to do it now if you want a tile that is a bit different or trendy. If you compare the premium the builder is charging for the upgrade against the time, effort, and inconvenience this change will require later on, you may find that the builder's upgrade will win.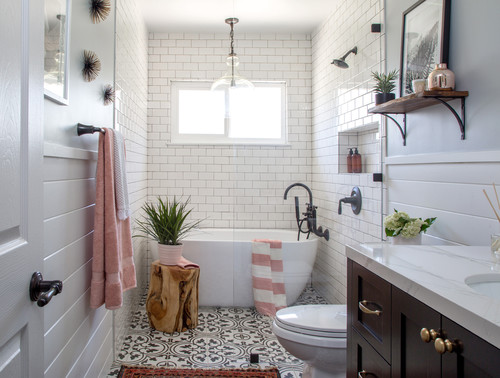 9. Special grout.
To get the look you want, you sometimes don't have to upgrade your tile. As a matter of fact, some builders have their design team pre-select the grout for each standard tile they are offering — often a close match to the tile itself — so their clients don't have to worry about making another selection. It may be possible to give your standard tile a stylish, unique look if you ask if this is the case, and if you're able to choose your own grout to go with your tile selection.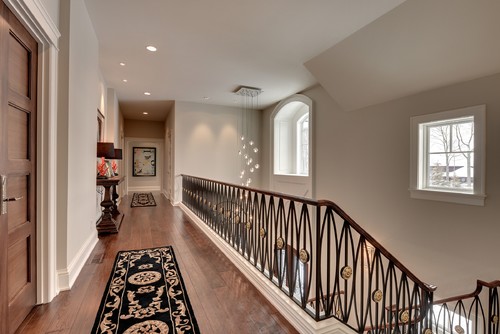 10. Wood in the upper hallway.
After you take possession of your new home, you can upgrade from carpet to wood flooring for less than your previous carpeted floor. However, if you would like to spend a bit more money on your flooring, wood in your upper hallway would be a nice upgrade. In this case, you can use your pre-finished hardwood flooring selection as a template, and the stairs will be stained to match the pre-finished hardwood flooring that you have chosen. If you already have a solid wood staircase, you can apply this method to the stairs.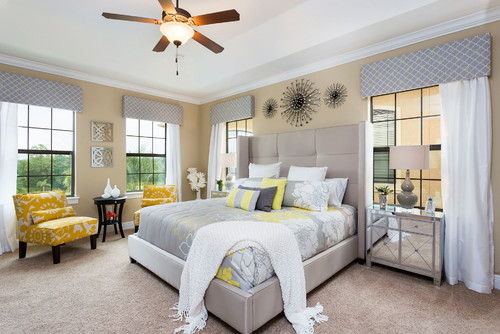 ​​11. Upgraded carpet pad.
It is generally not necessary to upgrade your standard carpeting, but you may want to consider upgrading the under-padding. You will typically find an upgrade like this to be cost-effective, softer underfoot, higher quality, and able to improve the life of your carpet.