In an ideal world, we would all have an unlimited budget available for our kitchen renovation. But the reality is that the majority of us do not – and that's okay. A kitchen renovation has to involve some compromises, even for the rare homeowner who possesses an unlimited budget and lots of space.
However, how exactly do you decide between two compelling options that all come with their own pros and cons? Having a clear picture of your renovation goals is the most crucial tool you can have when it comes to making tough decisions. During your project, you will have the opportunity to discuss some key trade-offs that you and your kitchen designer will take into account in order to get clarity about what matters most to you.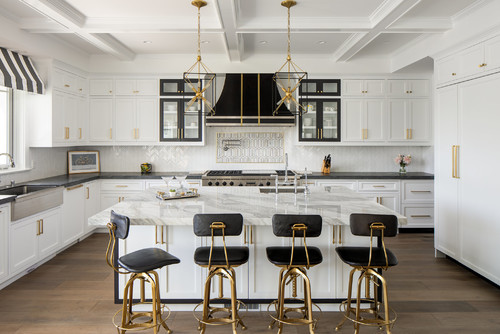 How Will You Use Your Kitchen?
When planning a kitchen renovation, it is very important for you to understand exactly how you plan to use the new kitchen.
Here are some examples:
You intend to invite people over more often,
You would like to entertain more frequently,
You want to feel relaxed while having guests over,
You want to arrange your kitchen to make cleaning up easier,
You want to keep your kitchen neat during cooking, etc.
If homeowners set clear goals for their kitchen, they will be able to make better decisions and, as the budget gets closer to its limits, ultimately choose the options that will help them achieve these goals. What do you consider the most important when it comes to your kitchen?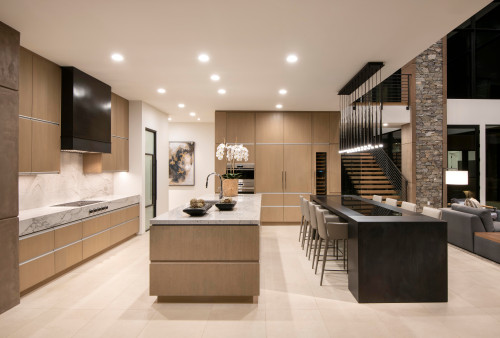 1. Daily Use vs. Special Events
Your design choices will be influenced by the number of people that you want to accommodate in your kitchen. From refrigerator storage to dining table seating, your design choices will depend on the number of people you want to cater to. In addition to how many people live in the home now, you'll want to consider how many people will live there 5, 10, 15 years from now, if this is your forever home.
Ask yourself, how often will you entertain? Whenever possible, we recommend that clients design with their maximum capacity needs in mind.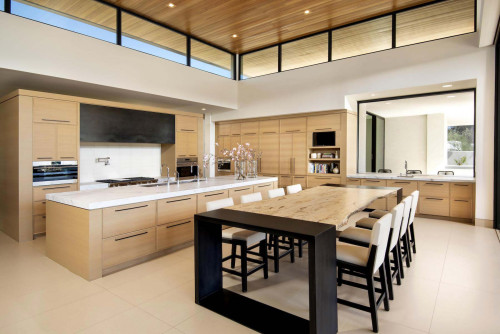 2. Cost vs. Value
There are a number of price points for everything from cabinets to sinks to appliances, and if you are considering a renovation (or you are currently undergoing one), you may have already discovered that. When it comes to deciding when it is worth it to spend your money on a high-quality item and when it is best to save your money, here are some questions to consider:

Will the investment improve your everyday life?
Will the product solve a pet peeve?
Will the addition of this element make your house feel like a home?
Will the purchase increase the value of your home?
If you decide that you want a new kitchen feature, you may decide that its cost is worth it purely because it brings you so much value. For instance, you might decide that you do not need to spend time cleaning your dishes because of the dishwasher.
Maybe you hate scrubbing dishes, and you are able to afford an upgrade, and you want to spend as much time as you possibly can away from the sink. Or maybe you feel quite the opposite, and you do not mind scrubbing dishes at all, so this will not be worth the investment.
As you frame your choices in terms of cost vs. value – in terms of your kitchen experience as well as the resale value of your home, you will be able to gain clarity on which features are worth the extra cost.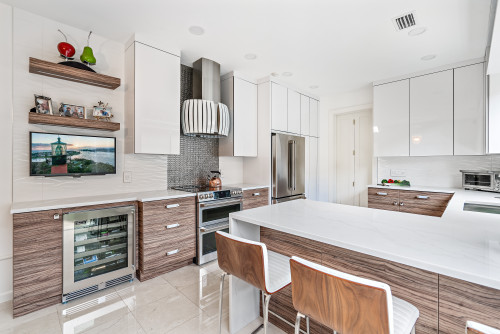 In order to prioritize your desires, you can assess how frequently and how long you spend on a given task. The tasks that you do frequently or spend a lot of time on should get more weight when it comes to spending your time and money on them.
As an example, most people cook with the burners 80 percent of the time, while they cook with the oven 20 percent. This is why we recommend prioritizing a cooktop over a wall oven, both based on the placement of the cooktop in your kitchen and the quality of the product, if this applies to you. You wouldn't want to sacrifice a great burner feature in order to get a much nicer oven, right?
However, if you are a baker who rarely uses the stovetop, you might want to consider investing in a wall oven rather than investing in a fancy range. For you, it would be better if you could make sure that you are able to reach into the oven from an upright position rather than bent over to get into it.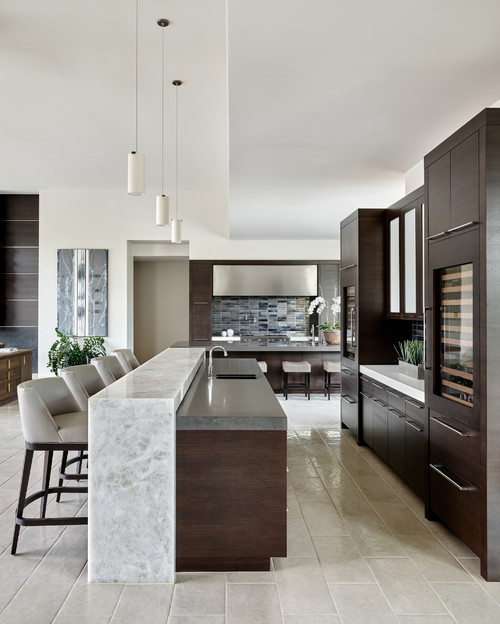 3. Function vs. Aesthetics
It is ideal for a kitchen redesign to be both functional and attractive. However, when limited funds are available, it may be necessary to make compromises between functionality and aesthetics. When we refer to function, we do not only mean that you get high-end appliances that come with a lot of bells and whistles, but also the layout of your kitchen, as well as whether or not you wish to have one sink or two sinks in the kitchen.
Quite often, budgets will force you to make choices on what is most important to you – the functionality of the kitchen or its aesthetics. Since aesthetics are the expensive yet beautiful finishes and customized details that give a kitchen a high-end look, it is quite often the latter that will be prioritized.
It is important to realize that this area is deeply personal and has a lot to do with the lifestyle you lead. There are several factors you need to take into account when you weigh aesthetics versus function: how many people you cook for on a daily basis, how often you entertain, what type of entertaining you do (backyard barbecues versus sit-down dinners), how you prefer to prepare, and how many people are involved at the same time in the kitchen.
Suppose, for instance, a client who is not a huge cook and is more concerned with the look of the kitchen than it is with its function. If the client really wants a beautiful built-in fridge with custom panels, he or she might be willing to use a less expensive range or counter material in order to obtain this beautiful, pricey fridge.
As an alternative, we have worked with several clients who purchased freestanding refrigerators and then spent their money on plumbing and construction work to add a second sink. In our opinion, this is a significant functional improvement that, for those who enjoy entertaining and cooking, is well worth sacrificing some aesthetics.
Creating room in your budget for what is important to you functionally can be done by cutting back on aesthetics in a number of ways. Using a simpler, less expensive door style on your cabinets, ceramic backsplash tiles instead of glass, or quartz counters instead of granite, might be an option for you.
A client of ours even used a simple laminate countertop with the intent of saving as much money as possible in order to put more into the renovation work needed to make the space perfect. Since she was in the home for the long haul, two years later when finances permitted, she replaced the laminate with a beautiful stone counter.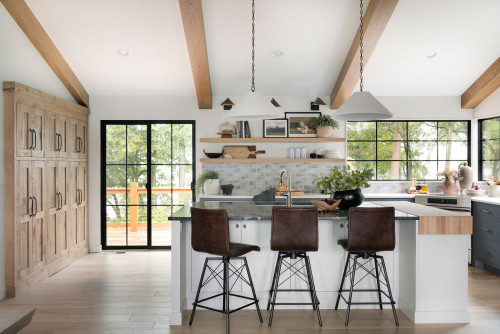 4. Speed vs. Patience
There will always be a delay in any home improvement project — that's just the nature of the process. In addition, any delay can be difficult, especially if you are living in the house and dealing with the mess as the kitchen is removed and construction is underway. If you find yourself in that position, you will be tempted to agree to anything in order to complete the project and get your home back to normal as soon as possible.
One of our clients had this experience when she chose to use a second-choice backsplash instead of her first choice because it was in stock, while her first choice had a month lead time. Another client, however, was unable to find a backsplash tile that she liked, so she finished her kitchen and skipped the backsplash completely because she couldn't find one she liked. After three months of searching for the perfect tile, she got the tile installer back in and was really pleased with the outcome. I am sure that you can guess which homeowner was the most satisfied with the renovation of her kitchen.
Whenever you are going to make a large investment that you are going to live with for a long time, we recommend going slowly, taking the time to find the right people to help you, and thinking carefully before making a decision.
It goes without saying, however, that sometimes speed can be a necessary evil, for example, if you are planning to renovate for a special event, such as a backyard wedding, or if you intend to sell your home and just want to give it a quick face-lift to make the most of it.
Considering how long you intend to live in your home will be a good guide when weighing the need for speed versus the need to exercise your patience muscles. It doesn't matter if everything is perfect if you're going to sell within five years — you just want to be sure you're going to get your investment back when you sell. It's worth slowing down and investing in your quality of life if you're planning to live there for 10 years or more. Make sure you take the time to find the right solution, not just the quickest solution.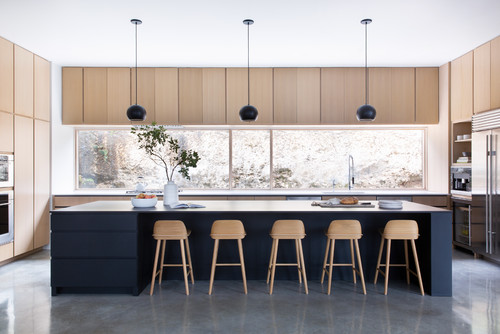 5. The Ideal Me vs. the Real Me
It is worth mentioning that some clients believe that a renovation will change their habits — or even their personalities. This is not so much a trade-off as a reality check. We have observed that even if you are already a messy cook, it seems very unlikely that a new kitchen will transform you into a clean-as-you-go cook.
In order to design a kitchen that fits the type of person you actually are, focus on solutions that take into account your true habits instead of the person you wish you were. The cook might, for example, want to add a separate sink where he can hide dirty dishes while making a meal if he is embarrassed when guests are present.
Alternatively, a homeowner may want to create a hidden drop zone for papers, cellphones, pens, and other detritus that tends to accumulate on kitchen counters.
Would you like more information on your kitchen renovation? Contact our team of contractors for a free consultation – we will be happy to answer any questions you might have and we will provide you with a free estimate for your kitchen renovation.