The process of renovating your bathroom consists of many different steps, whether you are employing the services of a specialist, an architect, or a contractor, but knowing what style appeals to you the most may be the key to a successful renovation project.
There are ten popular bathroom designs that you can find in this article, as well as their colour palettes and key characteristics you should know about them so you can make the best possible decision when designing your bathroom.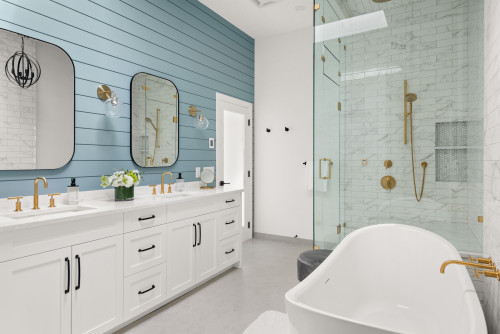 1. Transitional Bathroom
With just enough detail to please both traditional and contemporary design enthusiasts, transitional bathrooms gracefully bridge the gap between traditional and contemporary styles. Though transitional bathroom styles do incorporate elements of both traditional and contemporary styles, they do not stray too far into either direction.
The following are key characteristics of transitional-style bathrooms:
Shaker-style vanity
Light-hued stone counters, floors or wall treatments in materials such as marble and quartz
Undermount sink
Subway tile
Pedestal bathtub
Glass shower enclosure
Classic lighting such as drum pendants, updated chandeliers and sleek wall sconces.
Colour Palette: You can achieve a transitional style in your bathroom by choosing colours that are soft and subtle. These colours will add warmth and a sense of elegance to any room. In order to achieve a richer look, choose blues, browns, grays or wood tones for the colour scheme.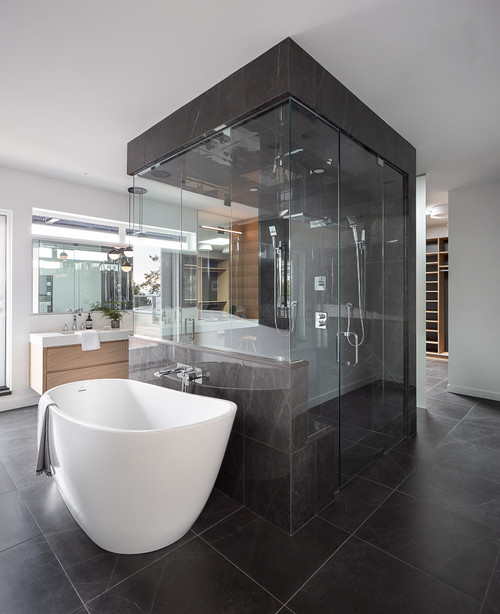 2. Modern Bathroom
With clean, streamlined lines, modern bathrooms emphasize strong horizontal lines, by emphasizing clean, flourish-free details that allow the architecture to take the center stage.
Key features of modern-style bathrooms:
Floating vanity
Glass shower enclosure
Freestanding bathtub
Minimalist faucets
Streamlined lighting
Frameless mirrors
Colour palette: With a modern-style bathroom, the focus is often on the architecture, meaning that the colour palette tends to be crisp, clean white, subtle neutrals, and black. Accessory accents such as bath towels and plants are another way in which pops of colour can be incorporated.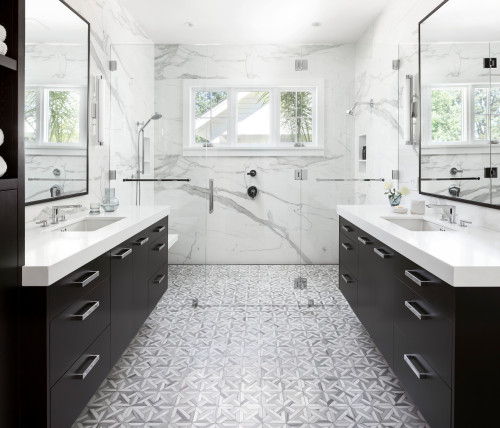 3. Contemporary Bathroom
The latest technology, materials and trends are fully incorporated into contemporary bathrooms, which create a look that is of the moment, complete with clean lines and minimal decor. As a whole, contemporary bathrooms stay away from heavy embellishments and traditional shapes, but at the same time, they are able to break the rules.
Key features of contemporary-style bathrooms:
Sleek vanity
Minimalist faucets
Glass shower enclosure
Statement tile
Slim-profile mirrors
The latest tech such as digital shower controls and smart mirrors
Colour palette: In contemporary bathrooms, black-and-white is becoming a popular palette choice, although any combination of high-contrast colours can work well in this room.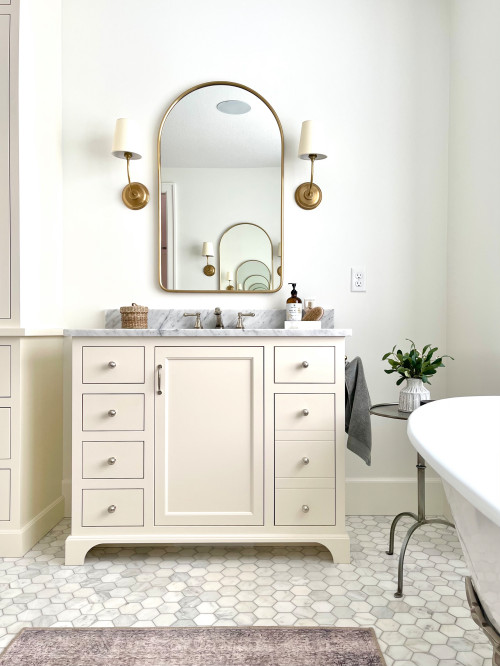 4. Traditional Bathroom
As opposed to minimalist modern bathrooms or contemporarily-styled contemporary bathrooms, traditional bathrooms are timeless, comfortable, and refined with gleaming surfaces and high-quality materials. It is why traditional bathrooms prefer a healthy amount of decorative detail and timeless elegance over minimalist contemporary bathrooms.
Key features of traditional-style bathrooms:
Furniture-style vanity
Elegant stone counters, floors or wall treatments
Antique-style lighting
Classic bathtub such as a claw-foot or pedestal style
Dressing table
Wainscoting, wallpaper and decorative moulding
Colour palette: A traditional bathroom is typically characterized by soft, calming colours. Neutrals, light blues, calming greens are popular, but for a more cosmopolitan type of bathroom, consider deep shades of blue, brown, gray and wood tones, along with subtle neutrals.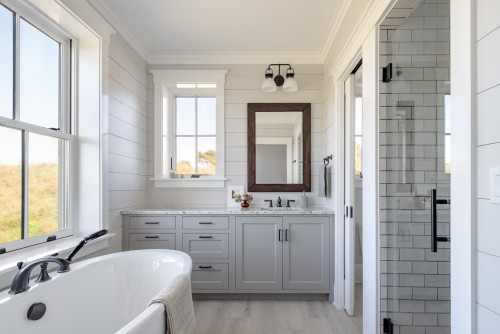 5. Farmhouse Bathroom
There is something special about a farmhouse bathroom, combining a rustic charm of regional, rural heritage with a simplicity-loving modern sensibility. And while farmhouse bathrooms have many modern features today, this is not the place to experiment with trends: Think simple, honest and home-made.
Key features of farmhouse-style bathrooms:
Shaker-style vanity
Barn lighting
Wall panelling
Claw-foot bathtub
Sliding barn doors
Trough sink
Colour palette: Traditionally, farmhouse bathrooms favour simple, natural-looking colour palettes. White is a popular colour with crisp black accents, and darker hues can be found in nature-inspired neutrals and other classic hues with a warm tone.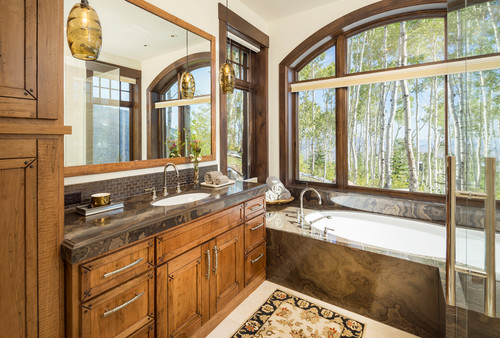 6. Rustic Bathroom
Today's interpretation of the rustic bathroom look can easily lean more (or less) contemporary depending on your own sense of style and how to incorporate its natural beauty into your design. Rustic bathrooms employ rustic materials and warm, cozy textiles to make a warm, welcoming space.
Key features of rustic-style bathrooms:
Wood or wood-look vanity
Vessel sinks made from stone or copper
Natural stone counters, floors and wall treatments
Copper bathtub, Japanese-style soaking tub or classic claw-foot
Hardware in weathered finishes such as oil-rubbed bronze, antiqued brass or hammered copper
Warming details such as kilim rugs and filament bulb vanity lights
Colour palette: In a rustic bathroom, the paint colours and accents are composed of similar shades of a variety of natural materials, such as warm woods and stones. This creates an environment that's rich and cozy with its natural shades.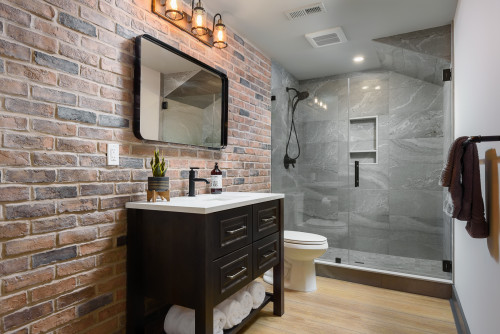 7. Industrial Bathroom
The industrial-style bathroom is a space inspired by factories and warehouses, where raw materials and tough fixtures and finishes take center stage in a space that is simple and utilitarian in nature. With the preference for practical, durable surfaces, industrial bathrooms are characterized by their preference for functionality rather than ornamentation on the surface.
Key features of industrial-style bathrooms:
Glass-and-steel shower enclosure
Raw materials such as concrete, stainless steel, brick and cinder block
Trough and basin sinks
White subway tile
Hefty sliding doors
Exposed pipes and gear-like hardware and faucets
Colour palette: Raw materials are used to create the base of the colour palette in an industrial-style bathroom along with touches of saturated colour that add a pop of visual interest.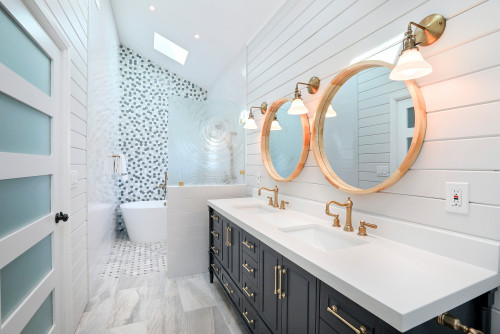 8. Beach Bathroom
A beach-style bathroom normally favours white and light tones, with an easy, laidback vibe. This is a space that dwells on natural materials, coastal colours, and a welcoming, comfortable atmosphere. Beach bathrooms can be traditional, contemporary, or somewhere in the middle. The main thing is keeping the atmosphere laid back and happy.
Key features of beach-style bathrooms:
Bold tile
Spacious shower
Textured elements such as pebble tile, weathered wood and mother-of-pearl
Wall panelling
Statement wallpaper
Accents in breezy coastal colours
Colour palette: In a beach bathroom, you'll find colours that are inspired by the sand, the sky, and the sea to create a feeling of place; crisp whites paired with seaside blues are one of the most popular schemes, though they are certainly not the only ones you can choose from. For a more vibrant choice, go for leafy greens and bold corals inspired by the tropics.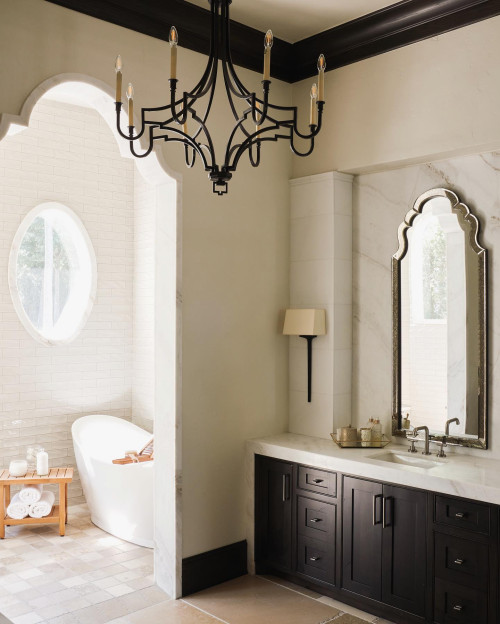 9. Mediterranean Bathroom
While Mediterranean style bathrooms can incorporate contemporary touches, they tend to focus on classics that have stood the test of time and incorporate natural materials such as wood, brick and stone, which lends them a casually elegant, earthy look inspired by sunlight and sea.
Key features of Mediterranean-style bathrooms:
Ornate lighting
Colourful tile
Burnished metals such as hammered copper, wrought iron, oil-rubbed bronze and antiqued brass
Statement mirror
Whitewashed walls
Vessel sinks in rounded and organic shapes
Colour palette: An elegant Mediterranean bathroom features rich colours inspired by the earthy tones and warm reflections of the sea, especially against a gray and white backdrop that creates a calm and relaxing atmosphere.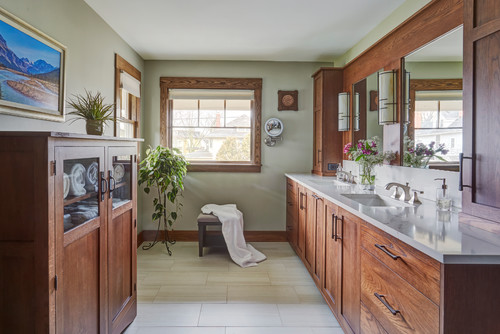 10. Craftsman Bathroom
In a craftsman-style bathroom, you'll find natural beauty of wood combined with high-quality craftsmanship and a warm, comfortable atmosphere. Craftsman-style bathrooms have a refined natural appeal but keep the feel of a warm, comfortable home.
Key features of Craftsman-style bathrooms:
Shaker-style vanity
Handcrafted tile
Rich, medium to dark wood tones
Natural stone counters, floors and wall treatments
Artful stained glass
Warm lighting in rectangular and square shapes with geometric details
Colour palette: Featuring rich earth tones, vibrant greens, and warm neutrals, craftsman-style bathrooms complement the natural wood decor well with rich earth tones.
The team at Square One Construction is here to help you with all of your bathroom renovation needs. If you are interested in receiving a free consultation regarding your bathroom renovation project, please do not hesitate to contact us.