If you have hundreds of bills stashed in your cookie jar, it may be a good idea to renovate your entire kitchen. However, if your cookie jar mostly contains cookies, well, it might not make sense to renovate the entire kitchen all at once, but instead, do it in phases.
All you need is patience and a well-planned game plan to break up your renovation into several phases. You'll be able to spread out over time, and still get the kitchen of your dreams. A phased approach would allow you to save up (fill that cookie jar!) and spend only what you can, when you can. For example, if you are painting the cabinets this month, maybe you can plan to buy new appliances at the end of the year.
Phased projects have many benefits, but there are also pitfalls to watch out for. This five-part series will walk you through the process of renovating your kitchen.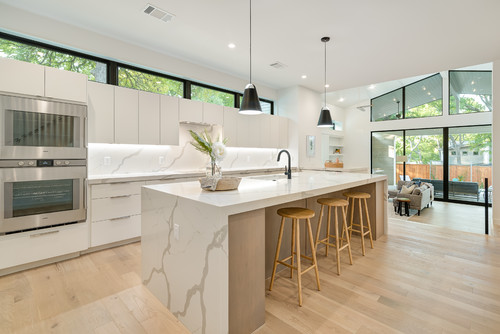 Take Your Time Before Renovating Your Kitchen
If you are unable to pay for a full renovation upfront and do not feel comfortable taking out a large loan to cover it, you can take advantage of phased renovations, which would allow you to spread out payment over time. When you break up a project, you can also change your plan between stages, something that is much harder to do when you are in the middle of a full-scale renovation. In the event that the plan needs to be reversed on some aspect, it will likely cost you less than it would have if the entire renovation had been done all at once.
When tackling a phased project, the key is patience and strategy. It's understandable to feel inclined to jump right into it, but we urge you not to do so. In order to avoid making rash decisions during the initial stages of planning a kitchen renovation, make sure to rein in any rash decisions you make early on. If you are planning to renovate your kitchen over a period, you should not purchase new appliances, fixtures, or countertops. You should not paint, replace windows, knock down that wall, or replace the cabinet hardware on your cabinets just yet.
On impulse, you might rip out that awful tile countertop and replace it with a gorgeous slab, but you will seriously limit your future options. You might have to change the undercounter sink, or worse, modify the kitchen layout, wasting time and resources if you end up changing the counter top later in the renovation.
Be patient and focus on developing a comprehensive plan before you buy new appliances. You never know what the finish or style will look like with the cabinets you are adding later down the road.
In addition to new appliances, fixtures, painted cabinets and new countertops, you may also need to expand your kitchen, remove walls, build into your backyard and add living space. Or your project may be more complex than that. Maybe you need to expand your kitchen, take out walls, build into the backyard and add living space. It is crucial for you to visualize and carefully review your expectations at this point before taking your next step.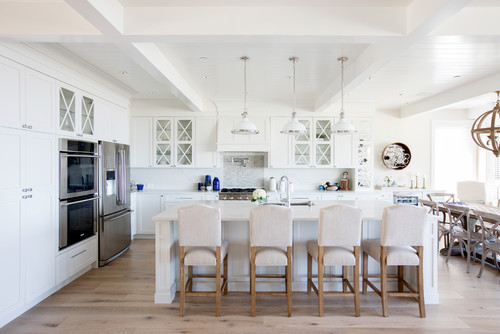 Consider Renovating Your Kitchen With Help
When it comes to designing your new kitchen, the success of your project starts with asking yourself an important question: What do I want it to look like and how will I accomplish my goals? If you are having trouble coming up with an answer, and you are already feeling overwhelmed, you might need assistance. It may be a good idea to consult a designer, but you might also consider an experienced builder as a starting point as well.
Having read this series, you will have a better understanding of what your renovation will entail, which is important because you may find it easy to handle your renovation alone. It may not be necessary to hire outside help if you are just painting walls and cabinets, updating appliances, and possibly replacing plumbing fixtures.
Alternatively, if the work involves a much larger amount of work or involves alterations to the floor plan (especially if new rooflines, exterior additions, or structural modifications will need to take place), a builder might be of invaluable assistance. A professional builder will ensure that your plan is approved by the local building department and they will also provide guidance on the best way to create a new living space that will function well and look great at the same time.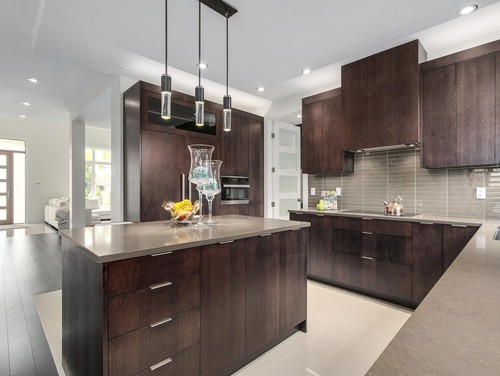 Kitchen Renovation Project Scope
After you have decided what overall objective you would like to achieve, you need to define the scope of your project. In this case, a professional can assist you by leading you through the conceptual steps. If you are managing the job, it will fall to you to determine the complete scope of the project.
As a general rule, the job can be divided into subcontractors, such as framers, plumbers, cabinetmakers, electricians and drywallers — as well as selections that are made such as tiles, countertops, light fixtures, paint colours, etc.
We're going to go into these breakdowns in greater detail in future parts, but the gist is that you should use a spreadsheet to specify precisely what type of work needs to be done or what type of subcontractors need to be selected, and then use the spreadsheet to do so. It might be necessary to make plumbing selections for a new sink and a new faucet, for example. The related subcontractor work, or work scope category, would be the plumber who is needed to install the new fixtures, as well as relocate the supply and drain pipes.
The physical plan should include a floor plan and elevations, so this is a good time to carefully study them and try to imagine the whole process, making sure nothing is overlooked.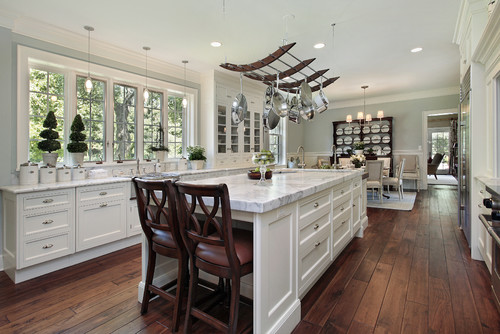 Making Kitchen Renovation Selections
The allowance is a crucial consideration when it comes to finding an accurate cost estimate of your project. When builders bid on a project without firm selections, they are left with no choice but to make assumptions as to your likely selections, which are referred to as allowances.
You can estimate all the appliances in your home will cost $10,000, but what does that mean if you have never visited a store for appliances? If you are estimating the cost of your own project, you have the same problem. The same concept holds true with virtually every selection that you will be making, since some refrigerators can cost as much as $10,000 on their own.
The only way to get an estimate that means anything is to choose your appliances, plumbing fixtures, light fixtures, slab countertops, and anything else you can think of. In order to accurately estimate your total costs, get firm quotes for the materials.
During a renovation, it is always a good idea to make these decisions together, but when executing the renovation in phases, it is even more crucial. It requires extra planning to guarantee that each step complements the next.
If you were to replace your tile countertop, it could turn into a nightmare. In the event that you go out and replace the tile with a gorgeous slab countertop, you may enjoy the smooth surface for a while, but you will be limited if there you need to make changes to other areas. You might not be able to match your cabinet color with the slab color. Worse, what happens if you cannot replace your cabinets and have severely restricted any layout adjustments you might have wanted to make due to the unique characteristics of the granite slab?
To ensure everything works together, make all your selections at the beginning.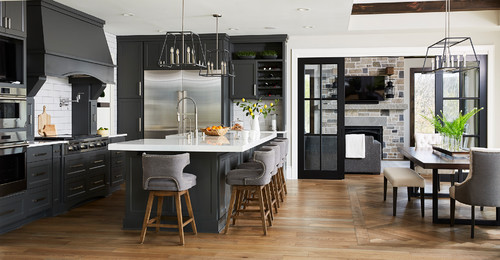 Kitchen Renovation Budget
Having a fair estimate on the total cost of the project, with each stage properly divided, is crucial to making this plan work.
If your plan is straightforward and includes new appliances, new paint, and some new hardware, then the estimation will not be too complex. If you go to an appliance store or check out an online store, you can get an estimate for your appliances. Get a paint estimate for your walls and cabinets. Figure out your hardware requirements, price out your selection, and then you're done. This is an easy process with very little risk (as long as you ensure the appliances you choose fit their respective spaces).
Although it is possible to properly price out kitchen renovations without experience, it is difficult for larger and more complex projects to get the job done correctly since they often involve framers, finish carpenters, drywallers, electricians, plumbers, tile setters, slab fabricators, painters, and potentially even foundation contractors, roofers, insulators.
Getting a proper estimate for a phased renovation, or any renovation, can prove to be challenging, so you'll need to try your best and keep refining and updating as necessary until it works. Although contractors are proficient at estimating, if you are doing your own estimation, it is important that you get quotes from every subcontractor and price out the fixtures and materials. It would also be a good idea to seek out some advice from someone who is an expert in this field.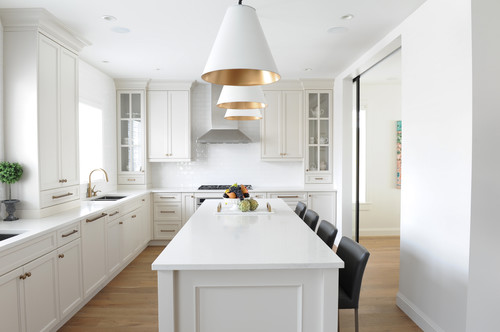 Kitchen Renovation Preparation
In order to embark on your renovation journey, you must prepare yourself physically, financially, and mentally. If you have ever lived through a kitchen renovation, you'll know what it's like to have washed dishes in the backyard with a hose and bucket for weeks on end, filled the cooler out with ice twice daily, eaten out a little but basically surviving on bare necessities while trying to keep your kids from starving, your marriage alive and your sanity intact.
If you divide the work into stages, you are able to take breaks to catch your breath between each stage. But it also extends the discomfort to some degree, just as you would have to remove a Band-Aid slowly rather than in one swift motion.
Ensure to ask yourself if you are mentally prepared to live this way for as long as needed, and how will you cope if it takes longer than you expected? How will you feed yourself? Will the money be there when you need it? Will you have enough money to cover your expenses?
Having designed your plan, selected your options, decided whether to seek professional assistance, built your budget, and constructed a temporary survival plan, you can proceed confidently.
It can be overwhelming to manage the renovations of your home on your own, which is why you might consider hiring a professional contractor who will be able to handle the project for you and guide you through the process, ensuring it is worry-free.
To find out how we can help, contact us today for a free consultation.